Scenes from a three storey squat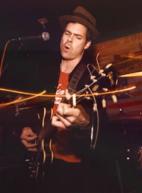 Now that we're working on the Camden Town subject, here's some more: Christian Gibbs - a musician and a San Diego native who now lives in NY - recently mentioned his London years in some interviews. He used to share a squat with the God Machine for some time. Here's some excerpts from 2 interviews:
"By the end of his teens, Gibbs had left San Diego with only a vague interest in college to pursue music and a bit of the unknown. Before long, one may have encountered a young boho busker in the form of Christian Gibbs working the city's famed Underground. While honing his writing skills, he performed tirelessly throughout the platforms and local street corners. He lived in a squat during this period, working bonus retail jobs at the thriving Camden Market.
I lived with this band called The God Machine, friends of mine from San Diego, says Gibbs. There were times where eight people lived with us in this three-storey squat in Camden. Looking back, those were some of the most adventurous times. I mean, it was a real change from growing up in conservative San Diego. London really opened my eyes."
"When I was 20 I moved to England for about a year and a half. It was supposed to just be for six months because I was doing a transfer program for school. When I was in London, you know, I worked. After the school thing I lived in a squat, I bussed on the subways, I worked at a market, Camden Market, selling clothes for little flea market stores.
What is a squat?
This was 89. Basically you break into a place, a dwelling that's empty, that's not being used even though someone owns it, most of the time it's government owned buildings but sometimes it's private residences. And, you put a lock on it and no one can break into it, and you get to keep it. But a lot of these places are like three storeys, equivalent to what we would call brownstones here. And they have like 8 rooms and so the one I lived in was on a really nice street. And musicians lived there, people from all different parts of Europe lived there, we had a guy from Paris, a guy from Denmark, a guy from England, two of my friends from San Diego were in a band called The God Machine and they lived there so I got in via them. You don't pay any rent. You throw the trash out the back window, steal the furniture from whatever pubs closed down.
How did you find it?
Oh, they found it and I just kind of weaseled my way in. Everyone puts a lock on their door, and you share a room with someone."
Link-a-ton:
C. Gibbs in Deli magazine
Official site
C Gibbs My Space