La Merika @ The Flower Shop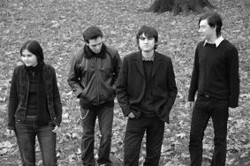 La Merika (feat. (ex-)members of Stingray Firecracker and The Veils) is one of the bands who have recorded a single for the revived Flower Shop limited edition 7 inch series. Their 7" is scheduled for a June release.
La Merika also hosted their first club night, 'Hooked Up' at the Push Bar in Dean Street, Soho last night. Robin Proper Sheppard from Sophia was the guest DJ. 'Hooked Up' is an ongoing thing and the next night will be Thursday 2nd June.
La Merika site