The Zincs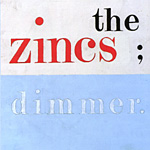 James Elkington aka The Zincs has just released a new album called 'Dimmer'.
James is a former member of Flower Shop band Elevate and was also a member of the Sophia collective. There's also a song on Sophia's recent Collections:One cd called Zinc, which was recorded in 1998 with James Elkington on drums and guitar.
I haven't actually found the new album yet so I can't tell you what it sounds like, but the reviews I've read were all quite positive. The album is out on Thrill Jockey.