1995: Robin + Swervedriver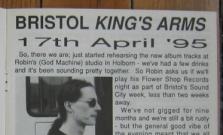 A blast from the past post. The guys at Swervedriver.com have been digging into their personal archives and put a lot of stuff online. Between all that stuff Frédéric Aellen (from the SundayVelvet site) found two interesting scans from the Swervedriver fanzine.
Swervedriver were asked by Robin to play at a Flower Shop night in Bristol (17.05.1995) and Robin even ended up playing with them. Apparently that was the was the very first time he played live since The God Machine. (The first Sophia gig was in October 1996).
Anyway read for yourself here:
page 1
and
page 2