Copenhagen review in HUMO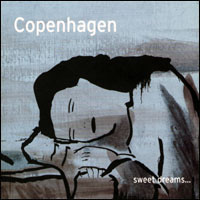 Copenhagens last album 'Sweet dreams' (FLOWCD 20) got a review in this weeks HUMO magazine. No big deal, you might say. Well it is here in Belgium. HUMO is the most important magazine over here and every record company tries to get a review of their latest releases in HUMO. But they only review about 5 albums a week, so you get the picture... If you do get in, better hope for a good review, a bad HUMO review can absolutely 'kill' the album sales.
So Copenhagen got in and they got a good review! They start off with a small description of the 'Tales from the forest' album and how it was so unlogical in a time where everything was about the guitars of The Strokes and The White Stripes and Copenhagen released an album of theatrical 'chamber pop'. 'Sweet Dreams' does have guitars on it (they don't fail to mention that Sophia's Robin Proper-Sheppard plays some guitar on the album) but still turns its back to what's currently 'hip'. Favourite songs of the reviewer are 'Soldier', 'We want you here' and 'Shark attack'. He draws some comparisons to The Divine Comedy and Cousteau and ends like this: "with a glass of absinthe, the album is a perfect soundtrack for all your silent nights".
Copenhagen are currently trying to get sick leave at work so they can tour around Europe. The only gig that I know of so far is at The Cactus Club in Bruges. Better keep an eye on
www.copenhagen-uk.co.uk
for more dates.